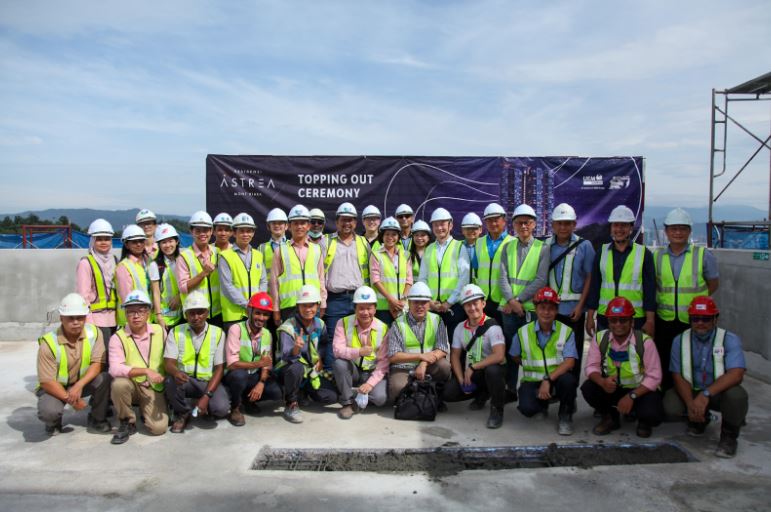 Full Release: KUALA LUMPUR, 29 November 2022 – UEM Sunrise Berhad ("UEM Sunrise" or the "Company") has achieved another milestone by commemorating a successful topping out of Residensi Astrea Mont'Kiara ("Residensi Astrea") today, further cementing its foothold in the international neighbourhood of Mont'Kiara.
Amid numerous challenges including lockdowns caused by the Covid-19 pandemic, labour shortages and the rising cost of building materials, the topping out of Residensi Astrea serves as a testament to all parties involved in the project to ensure timely and seamless delivery across multiple stages, having reached its structural peak with the completion of its roof slab on the topmost floor.
"Residensi Astrea's topping demonstrates our continued efforts to bring value to the Mont'Kiara neighbourhood as one of its pioneer developers despite the challenges we faced and overcame. We aspire to create more sustainable living spaces with innovative products for homeowners who seek to stay in the international and diverse community of Mont'Kiara. Residensi Astrea's progress is going according to schedule, and we are looking forward to its completion in Q4 2023 as planned," said UEM Sunrise Chief Executive Officer Sufian Abdullah.
Residensi Astrea provides an ambience of spaciousness and luxury in every corner. Its design maximises natural light and ventilation into the rooms which will reduce dependency on artificial lighting and air conditioning. Residents will also be feted with views of either the Mont'Kiara skyline or the green forest landscape of Bukit Kiara.
In addition to a multi-tier security system for the safety and comfort of its residents, Residensi Astrea also features more than 20 lifestyle-inspired facilities for them to enjoy such as lush, landscaped greenery on the ground floor, gastro pavilion, starlit infinity pool, splash playground for children, sky lounge and sky gym.
Residensi Astrea has excellent proximity to various international schools and retail hubs and services in the area. Moreover, residents will have easy access to major highways such as the SPRINT Highway and Penchala Link, quickly connecting them to numerous regions of Klang Valley.
For more information about Residensi Astrea, please visit www.uemsunrise.com.
(吉隆坡12日讯)随着Residensi Astrea Mont'Kiara封顶仪式圆满完成,意味着UEM阳光有限公司已迈入另一个全新哩程碑,进一步巩固在满家乐国际社区的龙头地位。
这项发展计划于2018年10月推介,是一座建立在2.4英亩永久土地上的豪华住宅计划,包括一栋包含240个住宅单位的 37 层高大楼,分别有6款不同的室内布局。建筑面积从 126.7平方米到 172.7平方米,迎合各种购屋者的生活需求。
UEM阳光首席执行员苏菲安阿都拉表示,Residensi Astrea 的发展进度已按时进行,我们期待它能按照计划在 2023 年第四季度竣工。
这项象征性的封顶仪式由 UEM 阳光首席执行员苏菲安阿都拉与首席运营官(中马)梁智杰 和 Residensi Astrea 的项目团队主任潘雪明共同主持。 UIG Architects 的项目建筑师 Ar Reno Lee、总承包商 Pembinaan Mitrajaya Sdn Bhd 的执行董事 Bibhuti Nath Jha和项目总监曾远岗也出席了这项仪式。
Residensi Astrea 98%的单位已售出。这项发展计划预计在2023年第四季竣工,发展总值(GDV)为3亿2300万令吉。
有关 Residensi Astrea更多详情,欢迎浏览 www.uemsunrise.com